Why Do You Seek the Living Among the Dead?
As Christians, we celebrate the Resurrection not just once a year, but every day. Christ died so we could live and be restored with God. "And as they were frightened and bowed their faces to the ground, the men said to them, "Why do you…
Can be sure that Jesus rose from the dead?
There are many evidences for Christianity and there are many ways that the Bible authenticates itself as the Word of God. The most powerful proof of all is the resurrection of Jesus Christ. This event is woven within the history of the world, as is…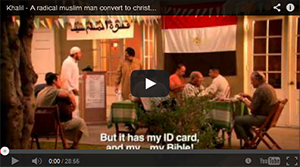 From Terrorist to Peacemaker
From Islam to Christ, a true story. Khalil, A radical Egyptian terrorist changed from a murderous "Saul" to a forgiving "Paul" after Jesus Christ visited him in a soul-penetrating dream. This hater of both Christians and Jews set out to discredit the Bible, but instead,…